When you think of a budget desktop, what comes to mind? Integrated graphics, very few ports, and an extremely boring case, right? Well the Micro Express MicroFlex 1.0 does have an extremely boring case, but it's otherwise a pleasant surprise--with a discrete graphics card and USB ports to spare--considering it's labeled "budget."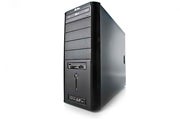 The MicroFlex 1.0
costs just $600 (as of 11/2/11), but has some impressive features for the price. Sure, there's the 3.3GHz Sandy Bridge Intel Core i3-2120 processor, the 4GB of RAM, and the 500GB hard drive, but none of these features are particularly out of the MicroFlex 1.0's price point. However, the Blu-ray drive and the AMD Radeon HD 6670 are nice touches, not to mention the 64-bit version of Windows 7 Home Premium and a pair of USB 3.0 ports.
The Lenovo H2
is a slim rig that greatly resembles the rest of the
budget desktop
pack. But although it's lacking a little in ports and graphics support, it brings a lot to the table--including 6GB of RAM, a Blu-ray combo drive, and excellent performance for the category.
Our review model, priced at $699 (as of March 31, 2011), features a 3.2GHz Intel i5-650 processor, an Nvidia GeForce 310 discrete graphics card, and 6GB of RAM. This slender desktop also holds a Blu-ray drive and runs the 64-bit version of Windows 7 Home Premium.